Free gift worth up to €6.90 for orders over €80.00
PureVision 2 Monthly Contact Lenses
Bausch and Lomb brings a new release onto the market, PureVision 2 Contact Lenses. These silicone-hydrogels have been developed for wearers who suffer from lack of contrast sensitivity and blurred vision in low light. Therefore, PureVision 2 Contact Lenses are suitable especially for drivers, students or sportspeople.
Moisturizing Technology and Comfort
PureVision 2 Contact Lenses are some of the thinnest contact lenses available on the market. Thanks to ComfortMoist technology, which adds rich moisture to the lens surface, PureVision 2 Contact Lenses provide outstanding comfort throughout the day. Despite their exceptional thinness, they are easy to handle.

They are recommended by the manufacturer (upon agreement with an eye specialist) for continuous wear with a monthly replacement schedule. Package contains 6 lenses.
Note: There are two versions of PureVision 2 contact lenses packs - one with the HD label (in the bottom right corner) and one without this label. Both versions contain identical lenses, the difference is purely in the packaging.
Properties
| | |
| --- | --- |
| Manufacturer: | Bausch and Lomb |
| BC: | 8.60 |
| DIA: | 14.00 |
| Pack size: | 6 lenses |
| Expiration: | 12 months and more |
| Oxygen permeability: | 130 Dk/t |
| Replacement schedule: | 30 Days |
| Water content: | 36% |
| Lenses Material : | Balafilcon A |
| Power range: | from -12.00 to +6.00 |
| UV filter: | No |
| Product name: | PureVision 2 |
| Extended or overnight wear: | Yes |
Smart
Alternative
High comfort
Extremely breathable
Money-back Guarantee
Smart
Alternative
Gelone Eye Drops 10 ml
Immediate and long-lasting relief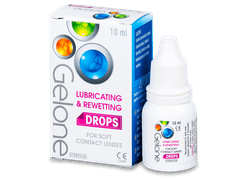 Soothes dry and sensitive eyes
Creates a film that protects the eyes
Can be used on all types of contact lenses
Reviews
442

of our customers recommend this product
Do you have any questions?
I wear these continuously at times and it's convenient to be able to do this. Because of the thinness of the lenses I don't feel any discomfort and my vision is ultra clear.